Boost your digital marketing with Ludus!
With its new functionality, Ludus becomes a global marketing tool.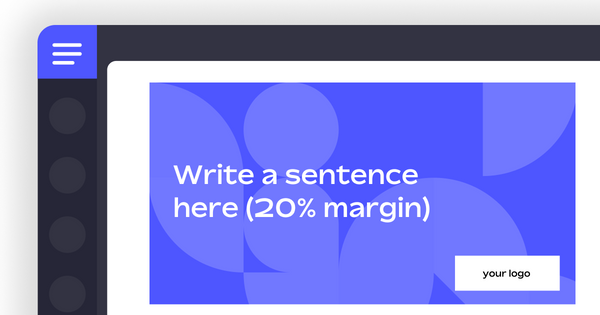 You know Ludus as an advanced presentation tool, but today it is much more than that. Thanks to its new feature, the vertical scroll, it has evolved to a higher level. Have you ever thought of using Ludus as a global marketing design tool? Discover now the features that make the software an interesting marketing tool!
Do you regularly use marketing to support your growth? Do you often carry out marketing campaigns to boost your customers? You have several objectives: to seduce the public, to create and use a global and coherent graphic design, to use different touchpoint channels, and finally to convert the customer. At all these levels, Ludus can act and be used as a marketing tool!
Let's find out together!
Let's take a concrete example: you want to launch a Social Ads campaign on Facebook.
1. You can create templates within Ludus, customized templates with the right branding and typography (from your client for example). Create a template for each publication format (photo, carousel, survey, etc.), and the Social Media Manager will be much faster and more productive when preparing the post. They will only have to replace the right content in the right place and then export. Also, it will ensure long-term consistency in your content creation. Interested? Here are some examples of templates you can clone now to start your publications!
Our clonable examples
Instant Crush ad
Le Pavillon ad

and social media templates
Square
Landscape
Stories
Carousel
2. The different publications of this Social Ads campaign must land users on a landing page, usually a landing page dedicated to this campaign. The new Ludus feature allows you to create a presentation that looks like a landing page. Even people who have no graphic or development knowledge can create a quality presentation that will undoubtedly impress their users. In fact, this new Ludus mode allows you to customize the URL of your document and integrate a form, a video, a link to an email, 3D, and anything else you can imagine! (If you want to know more about this new mode, click here).
Looking for a tool to quickly convert new leads thanks to creative pages? Check out this sample page:
3. When the contact is created between you (or your customer) and the user, you have to convince them, and you will have to present your company to do so. As you know, Ludus is your best ally to create slides that respect your branding and guarantee quality presentations to your clients. You will understand that you can create your presentations or your estimates in Ludus with a successful corporate branding, whose access can be secured with a password if you wish.
If you decide to integrate Ludus into your creative business as a global tool, you will find that Ludus works in all the marketing stages, if you fully exploit all its capabilities. Within Ludus itself, you can prepare your content, whatever it may be, create a qualitative landing page, and build your slides, and all of this entirely on demand. Templating tools or pre-formatted blocks are there to help you keep your communication totally consistent!
What are the marketing needs in a modern digital world? Ludus answers them...
Your marketing success is within reach. What are you waiting for? Subscribe now if not done yet!