Our experience with Product Hunt
A very successful launch story!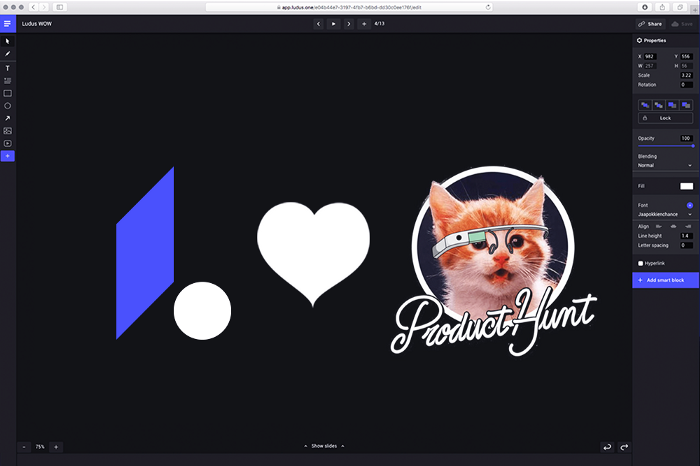 Last week, we launched the private beta of Ludus, and we chose Product Hunt to kick it off.
Since we started developing the product at the beginning of January, it was always clear that we would use Product Hunt as our main way to launch Ludus, even though we didn't know much about how it works at the time.
Product Hunt is a website that lets users share and discover new products (technology products, games, books and podcasts). It has been founded by Ryan Hoover in 2013. The site includes a voting system similar to Hacker News or Reddit and declares a winner every day. In the past few years, it has become the place to go when you want to launch a new product. It has been acquired by AngelList at the end of last year.
Thanks to this great article by Gilles DC, we learned that the first thing to do when you want to submit something to Product Hunt is to find a hunter that will actually do it for you. You could totally do it by yourself, but it's a better move to choose a hunter that has already a lot of followers, so you can have a much bigger impact, much faster. There are a few top hunters out there, the most famous being Chris Messina, Kevin William David or Bram Kanstein. We chose to go with the latter, because we could have a direct introduction to him, thanks to our good friend Olivier de Locht. That saved us from the burden of sending a cold email or a cold tweet.
Of course, being hunted by a top hunter doesn't guarantee that you'll make the homepage. Don't forget that the best way to make a great impact on Product Hunt is to have a great product. Something bad hunted by a famous hunter will never make it. Also, when you approach top hunters with a new product, it's obviously not guaranteed that they will hunt it for you. Most of them are very selective. Luckily for us, Bram seemed to like Ludus and decided that he would hunt it on May 10th, 2017. We provided him with a few important things: a tagline, a logo (a GIF so it's more noticeable), a video and a few screenshots (GIFs as well). Then, we just had to wait for a little less than 48 hours.
On May 10th, 2017 at 1:30 PM CET (4:30 AM PST), it was on.
The first thing we did when we were live was to make sure all of our friends knew about it and upvoted us. We published status updates on our respective social accounts and published this story on Medium. That got us 100 upvotes very quickly and the chance to appear on the homepage!
After that, things started to become crazy. If I remember correctly, the first time we noticed we were on Product Hunt's homepage, it was at the 9th position. The traffic on our website started to explode. Quickly after, we moved up to the 3rd position. We got so many people leaving their emails in our waiting list that we had to mute our Slack channel where we receive a notification for each subscription. 30 minutes later, we were second, and a few moments later, first. At this point, things were getting out of control and trying to follow what was going on in real time was impossible. We stayed on top until the end of the day and it only started to cool down two days later.
We are now at D+12 and we are impressed by the results because we weren't expecting them to be that huge. We ended up with more than 2K upvotes (2407 exactly at the time of writing this article) and more than 10K emails in the waiting list. But these are only numbers. What we are the proudest about is the positive response we received from the community. Check out the comments on Product Hunt, it's insane!
Apart from all that love, we also received a lot of useful feedback. When we invite people to join Ludus' private beta, they are also invited to a private Facebook group where we all discuss together. In 10 days, we were able to solve a few bugs and add some pressing features to the product, thanks to the awesome feedback of the users. Our current policy is to release something new (either a bug fix or a feature) before inviting more users. That's the reason why we were only able to invite 25% of our waiting list so far.
We obviously had a very good experience with Product Hunt. It has been a great trigger and we'll use it again to announce new features or new products, but after this incredible launch, it's only up to us to continue working very hard and provide a great tool that people love and use every day. Stay tuned, great stuff is coming soon!