Teams are now available for free, and with unlimited members!
We just released our new pricing in order to better fit your needs. Curious about it? Let's discover what it is about together!


We just released our new pricing, giving you much more options than before. You'll now find two main plans: Solo and Team, each of them having a Free and a Pro version. You hesitate between both plans? Or you don't know if you should go Pro or not? Stay here with us as we'll thoroughly explain the difference between all the plans in this article.
Solo
The Solo plan is an individual account. If you're a freelancer or are just used to work alone on your presentations, a Solo plan should perfectly match your needs. You can either get it in a Free or a Pro version.
The Free version gives you access to most of Ludus and should be more than enough for a casual usage. You'll have access to all editing features, up to 20 presentations in your dashboard, and 2GB of storage.
In addition to what's already available in the Free version, the Pro version provides you unlimited presentations in your dashboard, 10GB of storage, the possibility to present offline (via the download of a ZIP file containing everything), password protection, and custom URLs for your presentations. It's available for $99/year ($8.25/month). Additional Pro features will be released on a regular basis. This is just the beginning.
Team
The Team plan gives you access to a common dashboard with all your colleagues, which will allow all the members of your team to work on the same presentations. Apart from having access to the same dashboard, you'll also share colors, files, fonts and Smart Blocks. It's perfect for collaboration! And if you sometimes need to work on personal presentations, that's not a problem as you'll always have access to your individual account (either Free or Pro).
The Team plan now also has a Free and a Pro version, exactly like the Solo plan. The Free version provides exactly the same things as the Free version of the Solo plan, plus all the collaboration features described above. There is no limit in the amount of members in a team so if you want to invite 1000 people to join your team, well, you can.
The Pro version provides unlimited presentations, 10GB of storage per user, and all the features available in the Pro version of the Solo plan (present offline, password protection and custom URLs). As mentioned earlier, additional Pro features will be released on a regular basis, some of them very soon. You can purchase this plan for $99/user/year ($8.25/user/month) if you subscribe for a yearly plan or $9/user/month if you go for a monthly plan.
We forgot to mention that you can create as many teams as you want. How cool is that?
One last thing: if it's important for you to work on the same presentations at the exact same time, it's not possible yet, but will be in the coming weeks! Stay tuned.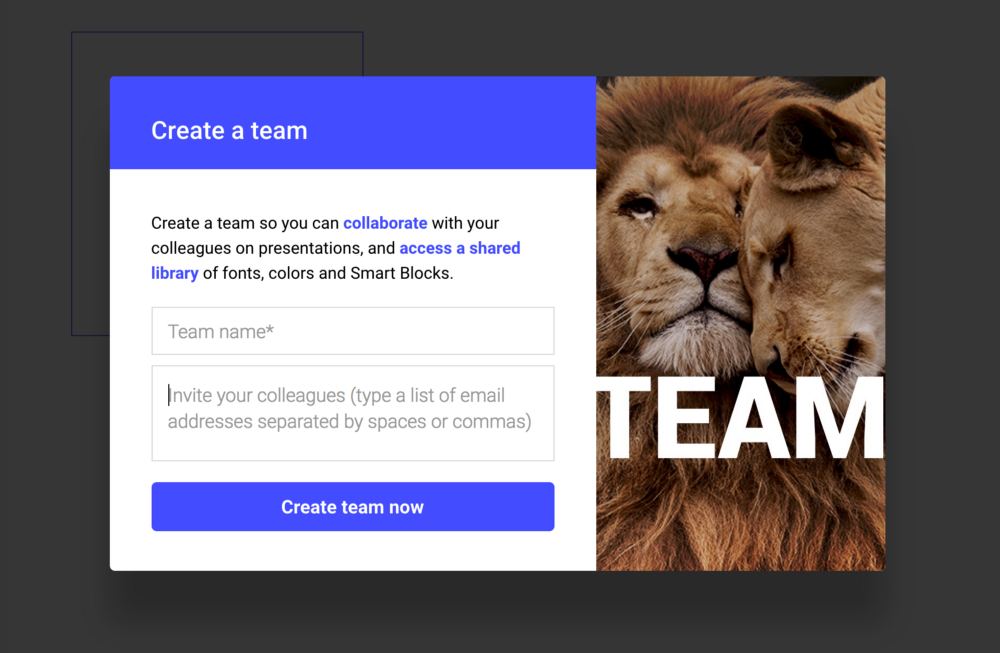 What's the difference with the old pricing?
The storage limit for the Free plan (for both Solo and Team) is now 2GB. It used to be 1GB. If our calculations are accurate, it's two times more.
You can now create a team for free, with unlimited members! Teams used to be available only at $49/month (or $499/year), and limited to 10 members. That's not true anymore!
Upgrading your team to the Pro plan is calculated based on the amount of members in your team (and prorated if you add members along the road). The previous Team plan allowed you to have up to 10 members and you were paying the same price if your team was composed of 2 members or 9 members. This new pricing model means Ludus can now make sense for very small teams but also for very large teams.
Want to create a free team now?
We hope this pricing update will allow more people to enjoy working together with Ludus and solve the collaboration problems we all had with other presentation softwares, which is exactly why we built this tool in the first place.
Have fun!